Ever since the federal ban on flavored vape pods went into effect, Juul users have been restricted to only tobacco and menthol flavored pod options. These restrictions were put in place in order to limit the number of underage Juul users, due to the popularity of pod flavors like mango and mint amongst teens. While this little piece of legislation definitely had an effect, it also made it impossible for legal vapers to enjoy the flavored pods that they had come to love. Now these vapers are having to turn to pod vaporizer alternatives like Puff Bar Disposables.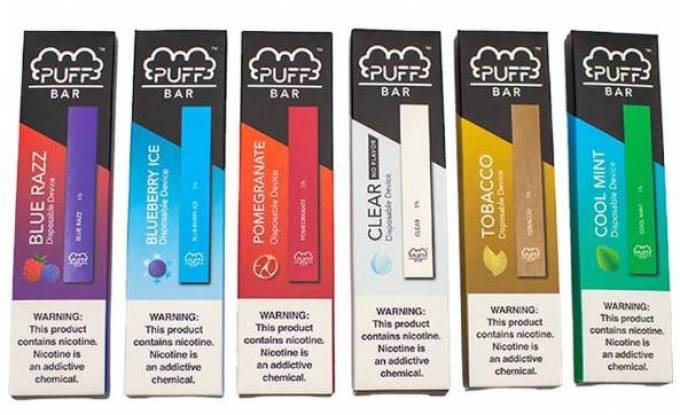 While the sale of disposable pre-filled vape bods was banned, the sale of fully disposable vaporizers is still legal. That means that Puff Bar disposables are available in a wide variety of flavor options. To understand how Puff Bars and other disposable vape options function, we have to start by taking a look at the Juul.
All disposable vapes are based in some way on the Juul, which is not surprising considering how these pod vaporizers revolutionized vaping. These little vaporizers got rid of the maintenance task of replacing coils and refilling e-liquid using their small interchangeable pods. While this design made vaping much more accessible, the e-liquids inside those pods was the biggest innovation that the Juul system offered.
The use of nicotine salt in e-liquids really changed how vaporizers functioned. Freebase nicotine, like what is used in conventional vapes, is harsh at higher concentrations. Because traditional vaporizers produce such large clouds, this is not an issue. Because pod vapes were designed to produce significantly smaller clouds of vapor, the nicotine concentration has to be much higher if vapers want to receive the same satisfaction. Salt nicotine is much smoother at the required concentrations, meaning that these little vapes can easily provide a satisfying hit with only a tiny amount of e-liquid.
Disposable vaporizers have internal nicotine salt e-liquid tanks instead of removable pods, but the idea is the same. Vapes like Puff Bar disposables typically have an e-liquid storage capacity of around double that of Juul brand pods while keeping a similar compact and portable design. This means that these vapes can provide more vapor than your average pod. Once the internal tank or the built in battery runs out, the entire vape can be thrown away like a spend pod.
One of the best things about these little vapes is the fact that they remove all maintenance from the process of using a vape. No need to recharge, refill e-liquids, or replace pods and coils. All vapers have to do is remove their new disposable vape from its packaging and start enjoying some delicious flavored vapor. Almost all of these vapes, including the Puff Bar, use the same draw activated circuitry as the original Juul device so they are just as easy to use.
If your customers love the convenience of using disposable vaporizers, you can find plenty of options for your shop when you visit Kingdom Vapor. As a wholesale vape distributor, they keep a wide range of vape options in stock including popular brands like Cali Bar, Rip Bar, and Puff Bar disposables. Every brand they carry is available in several delicious flavors so you can keep all of your customers' favorite options in stock. Kingdom Vapor does not require minimum order quantities on their products, so you can order exactly what your shop needs without getting stuck with a case of products that you can't sell. Check out their online store at www.kingdomvapor.com to see their complete inventory and to learn more about their wholesale services.
For more information about Vapor Liquid Wholesale and Smok Pod System Please visit : Kingdom Vapor Wholesale.